【AGENT WANTED!】
Are You Interested In Being Our Agent? You're welcome to contact us
News
2021-06-23
Another Step Forward into PP Woven Bag Top Solution
Still manually inserting liner?
Since 2016, Botheven Machinery, launched the first PP woven bag liner inserting line (model: CIS-2016), we have successfully installed more than hundreds sets in these years and are gradually become one of our top selling machines.
The main attractions are listed in below.
Automatic liner inserting for both laminated and non-laminated bag.
Stable liner inserting and servo control feeding length.
Liner extract position servo control .
With these features added, we are able to increase the % of automation in liner insertion and machine turnover is around 18 months in majority of the countries.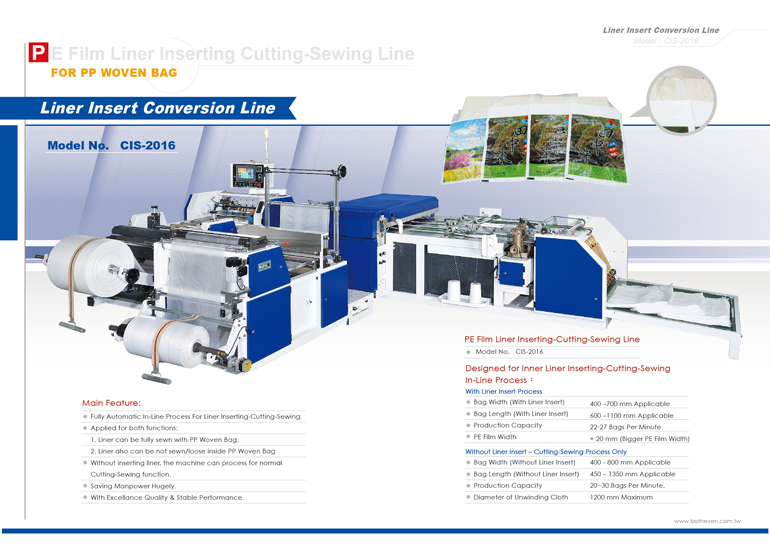 Cutting edge solution for bag top hemming
Even though we now have a perfect solution for the liner inserting, we have noticed that there is another greater demand on labor which is the bag mouth folding and sewing, this is a slow and technique required process.
In May, 2020, we launched the Liner Aligning & Hemming Machine (Model no.: Top-hem) aiming be a pioneer in solution provider in this field, our equipment is able to achieve bag mouth folding and hemming for PP woven bag with or without liner.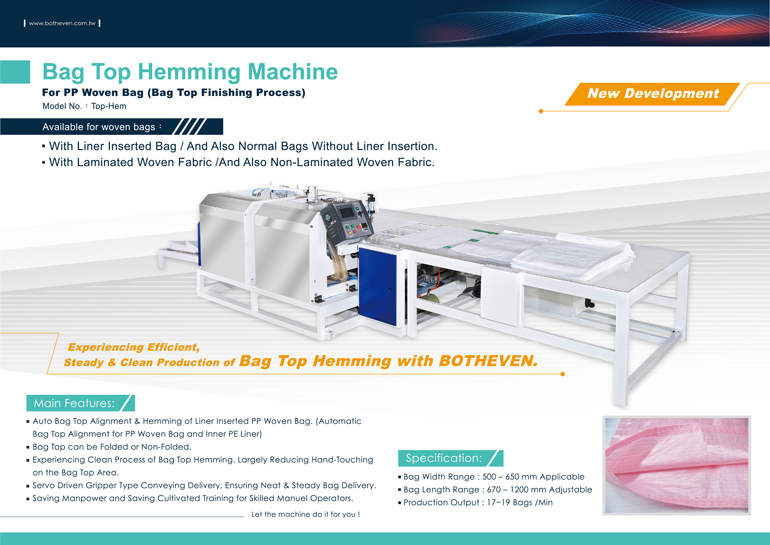 Embrace the automation
In Nov, 2020, the Top-Hem machine has proven its cost reduction and efficiency, with our expertise in the conversion line, we have connected the Top-Hem machine to our top selling machine Automatic Conversion Line (Model No.: CS-2012), we are here to introduce the new bag mouth solution, Fully Automatic Bag Top Hemming Conversion Line (model no.: HEMITEC).
The main attractions are listed in below.
Fully automatic from cutting-sewing to bag top hemming, all in one process.
Clean process of bag top hemming, largely reducing hand-touching on the bag top area.
Manpower saving and high efficiency.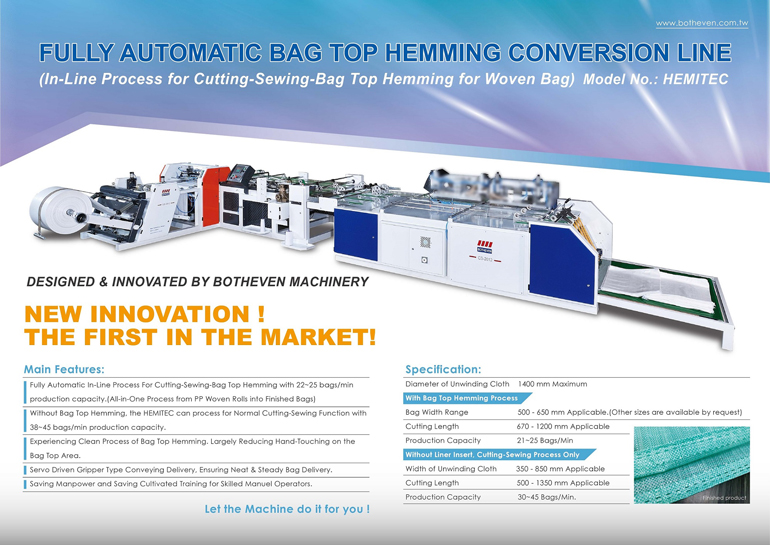 Next stop, where to?
It is our duty to keep on momentum going, we have more exciting machine on the way, follow us on Youtube, Facebook to get access to new information. If you have any inquiry, please feel free to contact us via email.
Source: PRM Issue 197 - Botheven Machinery, Another Step Forward into PP Woven Bag Top Solution